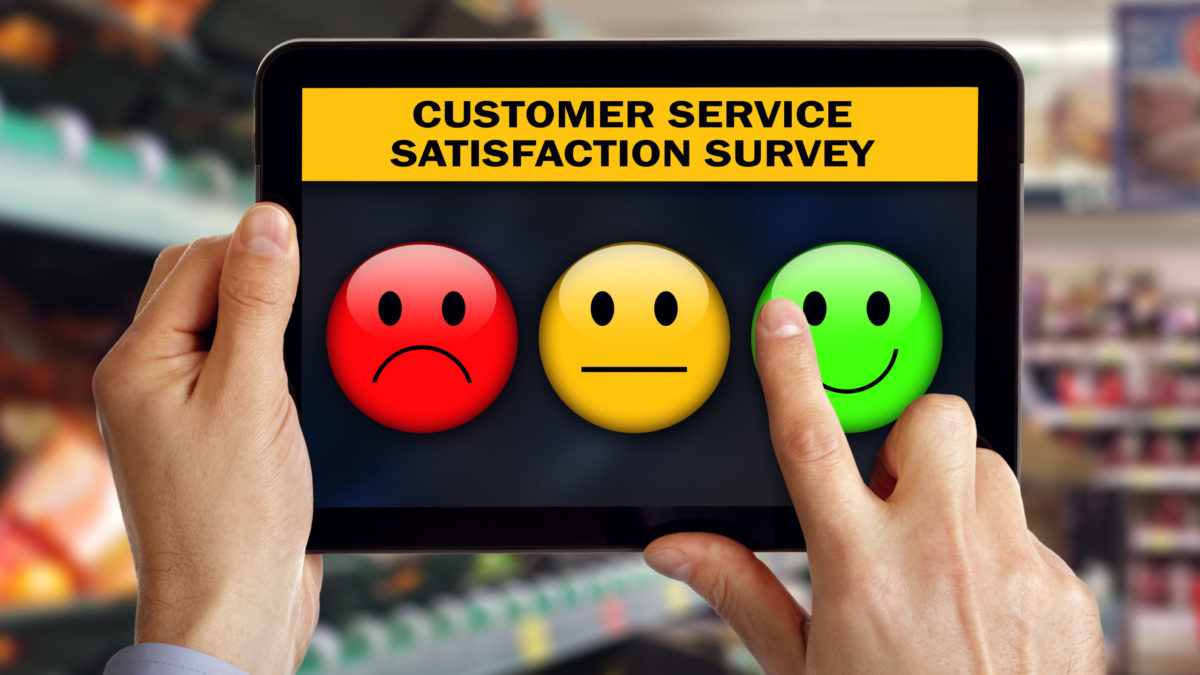 Measure the satisfaction of your customers for better loyalty !
Are you sure that the customers who frequent your point of sale are satisfied with your products, your services, your service in general? In your opinion, the number of complaints or customer feedback remains to an acceptable extent! But are you really sure that the consumer shopping experience is optimal? That there are no avenues for improvement before a possible escape to the competition ?
To reassure yourself and especially to consolidate or not your beliefs, it is imperative to listen to your customers and to know what they want or what they will want in the future.
It will therefore be wise to collect customer reviews directly in store. Two main collection methods predominate: on the one hand, self-administered satisfaction surveys such as questionnaires available at the point of sale or sent by email or post, and on the other hand face-to-face surveys carried out directly in the field by accompanying persons.
Why conduct satisfaction surveys with your customers ?
It is above all a question of knowing better its customers , their expectations, their needs , their purchasing behavior in order to improve the customer experience in store and avoid an escape into the competition. Knowing your customer is to build loyalty !
Collecting this information inevitably involves administering a questionnaire that will allow customer satisfaction to be measured and areas for improvement.
For businesses or stores with a storefront, unlike online stores, it will be wise to question your customers directly at the point of sale via self-administered or face-to-face surveys. The survey can be focused on a specific product / service or on the overall experience of the consumer when entering the point of sale: variety of the offer, store layout, product quality / freshness, reception, professionalism of the teams , loyalty card…
The collection of this information can also be done via digital channels : website, social networks, sending of emailing following a visit in store. The downside with this collection method is that the customer is questioned "cold", ie. once he has made his purchase, unlike a survey carried out directly at a point of sale, where the customer is shopping, we then speak of a hot questionnaire, because his purchasing experience is very recent.
Let us see below the different advantages and disadvantages of the different modes of administration: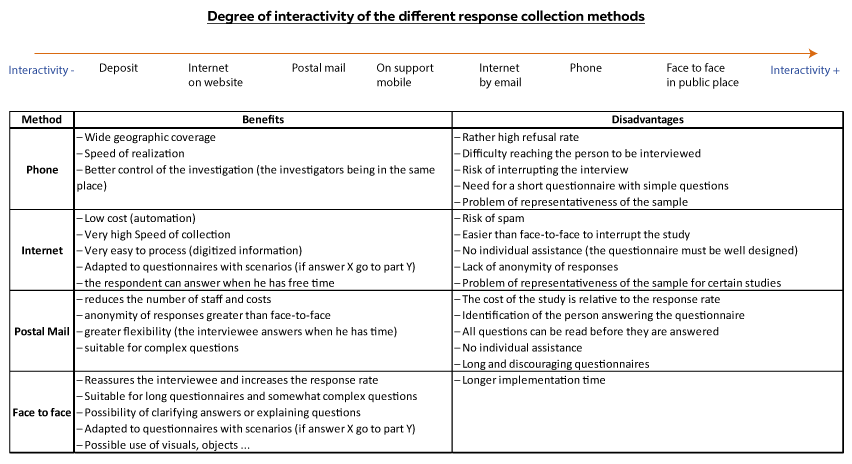 Face-to-face surveys with tablets: a qualitative mode of administration !
Whether you need to go directly to a person's home, go to a meeting room or even in the street or in a specific place, the tool adapts to the place where the survey is carried out face to face.
As we have seen previously, opting for a face-to-face satisfaction survey offers the almost immutable guarantee of obtaining very qualitative information : in fact, the customer makes himself available without risk of being disturbed. It is therefore possible to envisage long questionnaires and to collect in-depth answers, a very rich subject to be used afterwards. The possibilities to exchange orally while benefiting from a visual and interactive support during face-to-face surveys is made possible by the addition of photos, drawings, images and other pictograms.
More and more points of sale are seeking to collect customer opinions directly in-store by various means: interactive terminals, automatic checkouts, tablets available to the customer… these are self-administered surveys.
But this method has its limits because it requires a commitment from the client, especially in terms of time and in most cases the respondents do not complete the questionnaire because they are often too long.
To conclude, the administration of a face-to-face questionnaire by interviewers using a touchscreen tablet therefore has many advantages :
💪 The interviewer gives the respondent confidence and promotes a good understanding of the questions for the latter
💪 The ability to ask a lot of questions on the fly
💪 Cost reduction: compared to paper surveys where the answers have to be re-entered
💪 Closed / open questions
💪 The possibility of being several positioned in different places
💪 Good reporting of incidents / complaints
💪 Real-time monitoring of results
This method of administering questionnaires, which could be described as active, makes it possible to improve client participation and collect verbatims. It is therefore considered qualitative but requires trained investigators.
And if you need a professional to support you in your satisfaction surveys, our experienced guides for this type of mission are at your disposal, let us know
Benjamin
My name is Benjamin Kleinhentz, and I'm the communications manager for CD Pub. A question ? Here is my email: benjamin@cdpub.lu