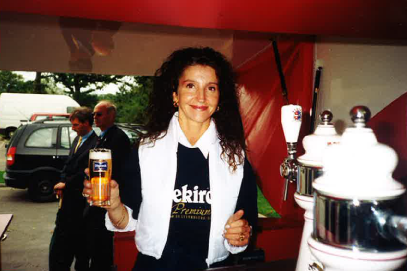 A family story
The CD Pub adventure has already been around for 19 years…
It all started with Carmen Torres. Carmen was a fabric artist: a dressmaker by trade, she had the opportunity, some twenty years ago, to become a sales manager for an agency in the Grand Duchy. And there, it is the blow of heart. Her bagou, her energy, her charisma… This job was made for her! She quickly became one of the best performers and most comfortable in her stilettos.
Shortly after, the agency closed. But Carmen, passionate if ever there was one, decided in October 2002 to embark on the entrepreneurial adventure: she opened her own commercial animation agency, supported by her husband Dominique (you know the saying, " Behind every great woman lies… " ).
The start-up resembles that of many entrepreneurs: few means, many projects. CD Pub activities start from their home: the dining room serving as a meeting room, the garage as a storage place, and the kitchen as a training room. Yoann, the eldest son of Carmen and Dominique, remembers: " At noon, I was often at the table with the animators in training ". The missions of CD Pub at the time was essentially commercial animation. Merchandising quickly followed, much in demand by the stores. For the first actions, the whole family was called upon: Carmen and Yoann worked as an animator and demonstrator, Dominique as a microphone animator.
As Carmen was very present on the ground, she quickly became a reference in Luxembourg – the company quickly evolved. 12 months after its beginnings, it was necessary to find a real office in Luxembourg.
Then the adventure continued: in 2004, the Event service was born (provision of hosts and hostesses). In 2007 it was the turn of the Sales Force service: customers were fully satisfied with the CD Pub hosts and now wanted to have real representatives dedicated to their brands on a daily basis. In 2010, the provision of communications media. In 2015, new premises in Esch-sur-Alzette, which is still the current headquarters.
Today ? CD Pub is an essential reference in the Grand Duchy, and the company also acts on the Belgian and French markets thanks to its network of partners. With nearly 250 Field Marketing clients, 150 active ambassadors, 1,250 field actions each month, the Torres-Amodeo family, who also saw the arrival of Lucas, the youngest son, is more than ever on the job .
Responsiveness – Tailor-made – Transparency – Flexibility…
… And long live CD Pub !
PS : And here is the fruit of the last rebranding dating from the end of 2019.

Benjamin
My name is Benjamin Kleinhentz, and I'm the communications manager for CD Pub. A question ? Here is my email: benjamin@cdpub.lu