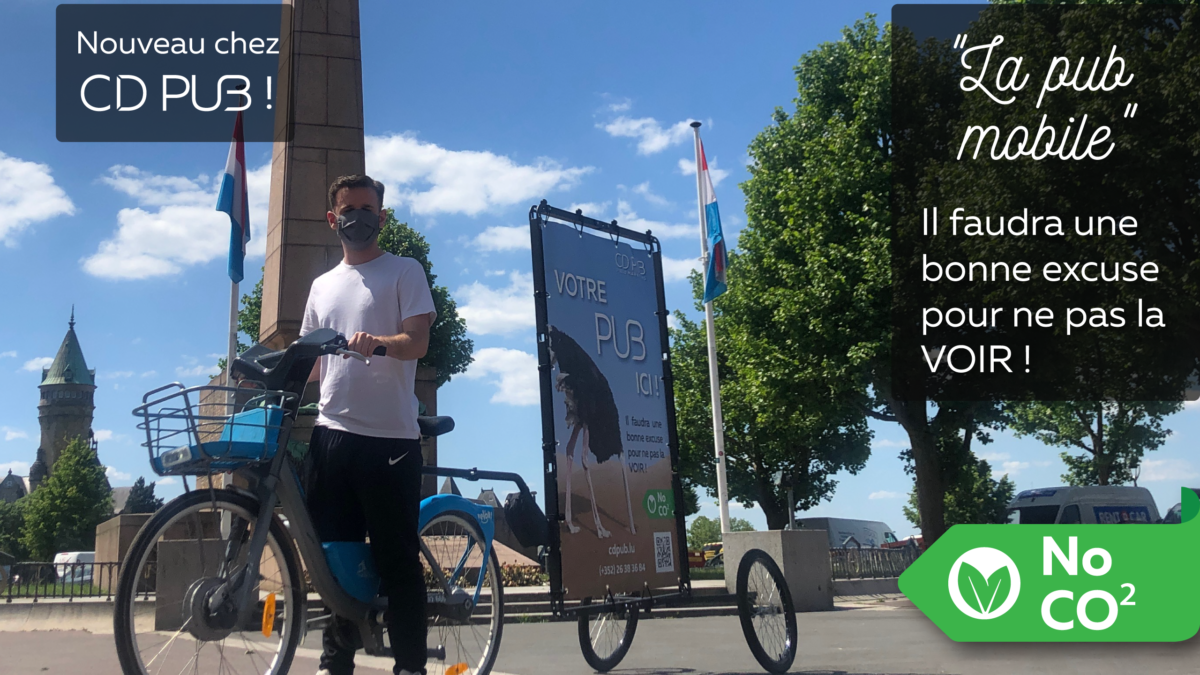 Mobile displays : an ideal communication medium to relaunch post-containment activity
Now it's your turn to spread your message! The CD PUB team is mobilized on a daily basis to offer you visibility solutions after this long period of confinement.
And if, in addition, these solutions are part of the reconstruction of a " better world ", in particular with an eco-responsible approach , we validate!
Mobile signage and more specifically the advertising bike is fully in line with this approach, unlike CO² emitting trucks or vans.
It is therefore logical that CD PUB is expanding its " Street Marketing " activity by offering you this new service
Street Marketing 100% post-containment!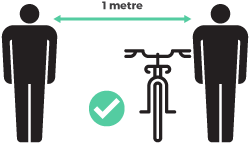 Social distancing
Visible from afar by its mobility and format , mobile signage promotes social distancing . Sensitive to "barrier gestures" and equipped (mask, hydroalcoholic gel), the bicycle driver will be able to convey your advertising message in complete safety.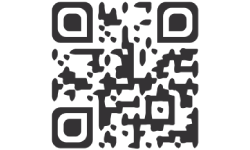 Social distancing
If you cannot distribute flyers or prospectuses (for the moment…), the QR Code on your advertising will be essential to maintain distance and above all to inform passers-by (website, online catalog, landing page…)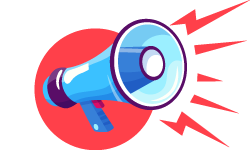 Speak again
Still shut up or speak again? Show your prospects that you are giving yourself the means to revive your activity . That you exist! You will mark the spirits with this original support which does not go unnoticed.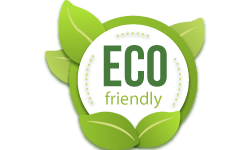 Eco-responsible values
It's time to contribute to change! And the bicycle can participate. Enhance your brand image by conveying (this is the case…) eco-responsible values (NO CO²)
But what is mobile display exactly?
Mobile display consists of placing advertising visuals on vehicles, in this case towed by a bicycle. We are talking about " Street Marketing " (discover our street marketing actions here )
The advantage of this communication medium is to be able to target individuals according to a geographic sector . This innovative mobile display format offers exceptional visibility because the circuits are designed to cover areas with high pedestrian and road traffic (bicycle paths). " It will take a good excuse not to SEE it ".
For an optimal impact , we define with you the routes according to your targets and the days / hours of affluence . In particular, it will be wise for the driver to take breaks at strategic locations to optimize the reach of your advertising message; it acts as a true ambassador for your brand : it informs passers-by, encourages them to scan the QR Code for more information and all this while respecting barrier gestures of course! (the distribution of flyers could also be considered when the health situation allows it).
The advantages of the advertising bike for your communication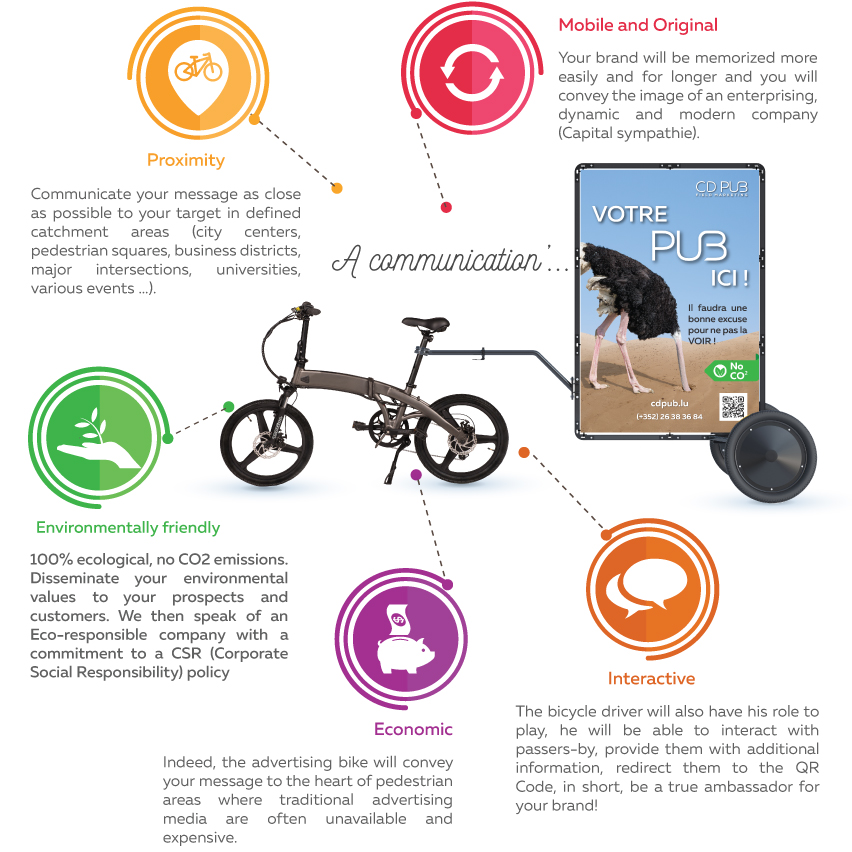 Impact in terms of figures
20 times more visible and 15 times more impactful than a traditional billboard !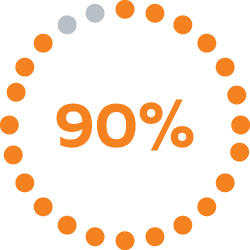 Visibility
90% of passers-by saw our advertising bike (on the defined route).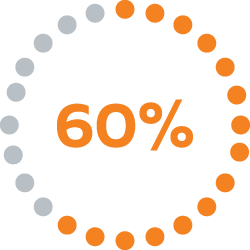 Memorization
60% of passers-by have memorized the brand (on the defined catchment area).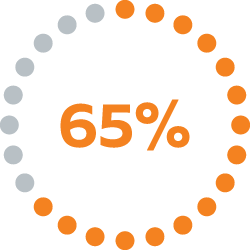 Originality
65% of passers-by found the concept innovative, original and impactful.
The CD PUB pack
– 1 Bicycle "Pub" (Format: 3m²)
– 1 host / hostess (4h min. Service)
– Tailor-made circuit
– Printing of the support (R / V)
– Reporting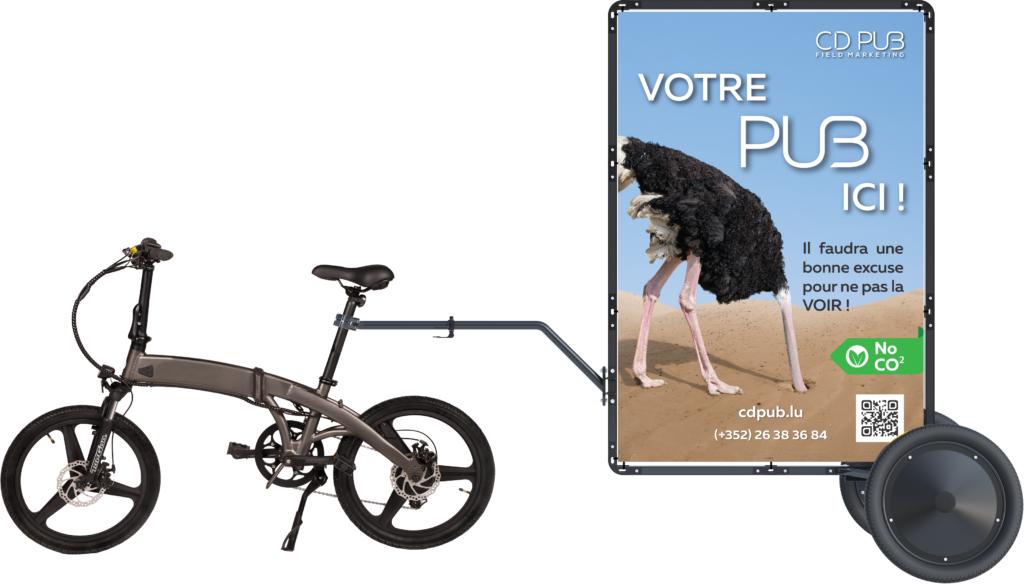 Here you are, you now know what mobile display can bring you in this period of deconfinement: visibility, brand image (CSR company), differentiation while making savings.
And if you need a professional to accompany you, let us know.
Benjamin
My name is Benjamin Kleinhentz, and I'm the communications manager for CD Pub. A question ? Here is my email: benjamin@cdpub.lu