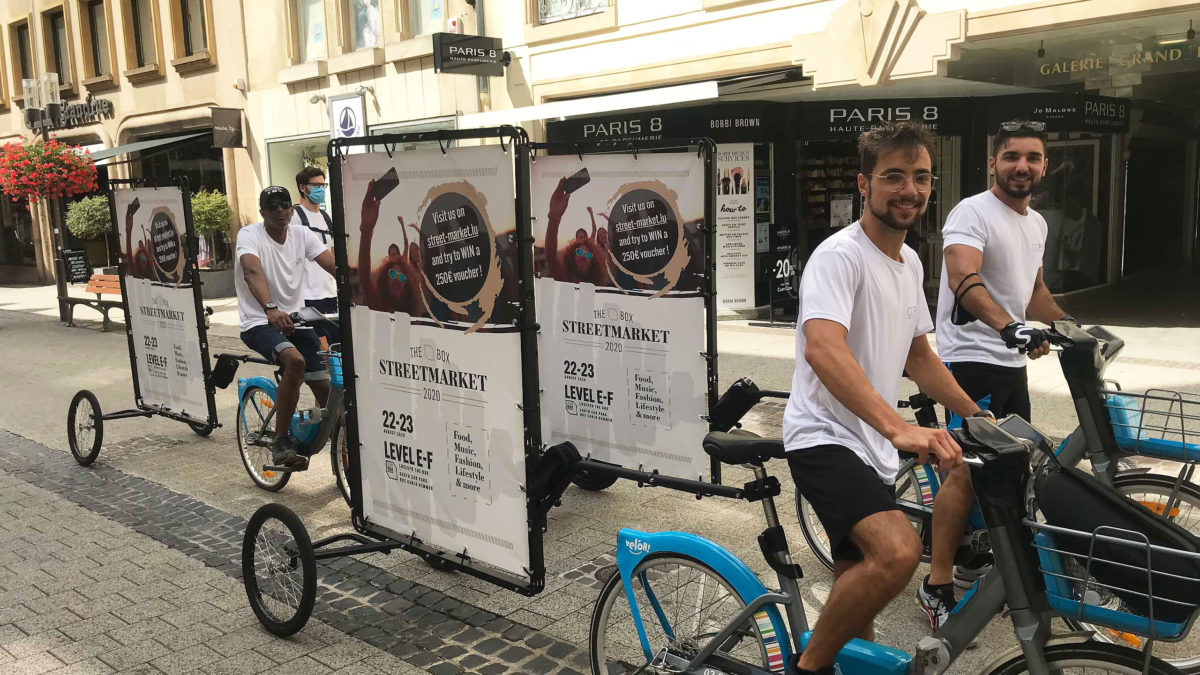 Street Marketing case study : In the saddles for Luxexpo
Summary of the operation
Dates : from August 17 to 22, 2020 in Luxembourg-city
Details of the action :
💡 3 "Pub Bikes"
💡 6 days of action
💡 288 km traveled
💡 11 strategic stopping points
💡 72 hours of visibility
Client objective
Luxexpo The Box , a conference and exhibition center located in the Kirchberg district (the business center in Luxembourg) wishes to set up communication actions in Luxembourg-city, in order to promote their event "The Box Street Market" , first edition of a new event completely redesigned for the resumption of post-containment events in Luxembourg.
Emerging from the frustration of many recently canceled events in the context of the coronavirus pandemic, this new open-air concept promises to be special, spacious and above all: safe!
Like an outdoor market (the highest level of the Luxexpo car park), the event welcomes around sixty exhibitors : food, drinks, music, fashion, decoration, lifestyle … with a capacity of 1,100 visitors ( taking into account physical distancing).
To promote this event and in addition to other media used, Luxexpo The Box would like an impactful and original Street Marketing campaign to communicate about this event, in short, to make an impression in this context of the resumption of events in the Grand Duchy.
Aimed target
Everybody ! The Box Street Market is for those who are tired of staying at home and looking for a little getaway.
CD PUB solution
It is important to remember the context: resumption of the event following a long period of confinement (COVID-19) with a collective awareness to make things happen (pandemic, pollution, bio etc …)
It is in this context that mobile display has established itself as the Street Marketing solution (You can take a tour here to find out more about our street marketing actions).
Indeed, the advertising bike conveys "noble" values ​​and has many advantages, particularly in this period of deconfinement :
Approach eco-friendly => no CO² emissions like advertising trucks or vans
The popular and trendy bike ! Completely in line with government measures to develop soft mobility (ex: doubled premium for the purchase of a bicycle)
Social distancing => Visible from afar by its mobility and format, mobile display promotes social distancing.
Originality => Unique on the Luxembourg market, this communication medium does not leave you indifferent
Max visibility => the circuits are designed to cover areas with high pedestrian and road traffic (cycle paths).
3 pub bikes and 3 bikers were therefore mobilized for 6 days to roam the streets of Luxembourg-City . The route has been defined according to peak times and around ten strategic stopping points have been defined in order to capture the attention of as many passers-by as possible (squares, cafe terraces, pedestrian intersections, etc.). Many interested passers-by took pictures of the advertising display.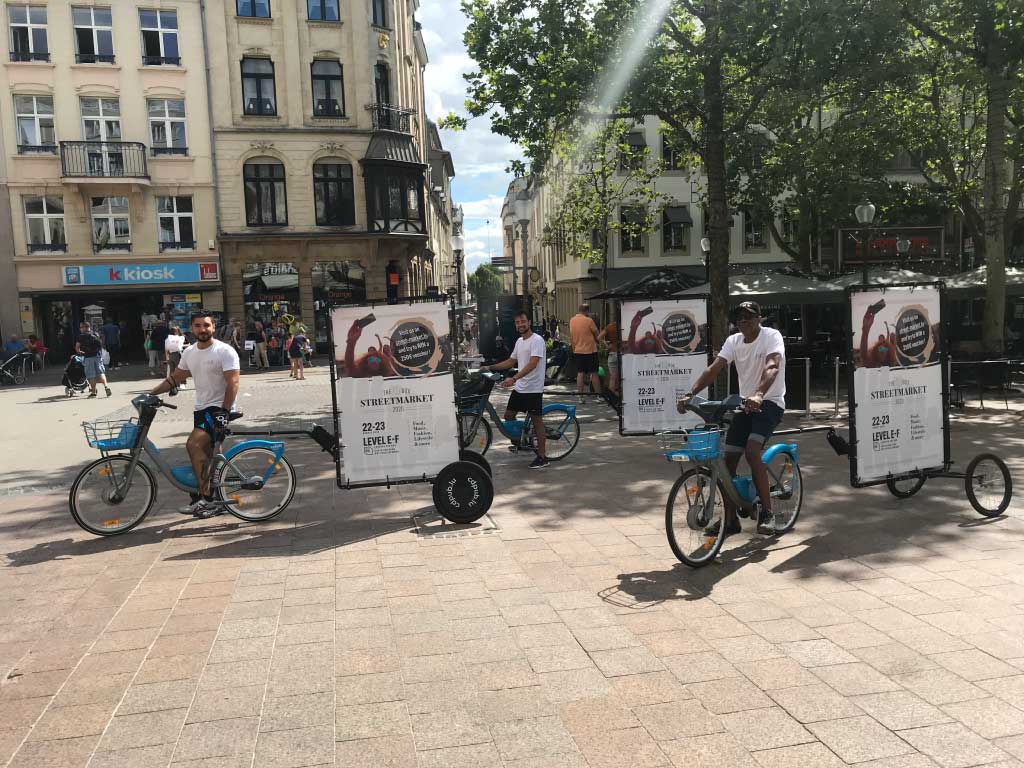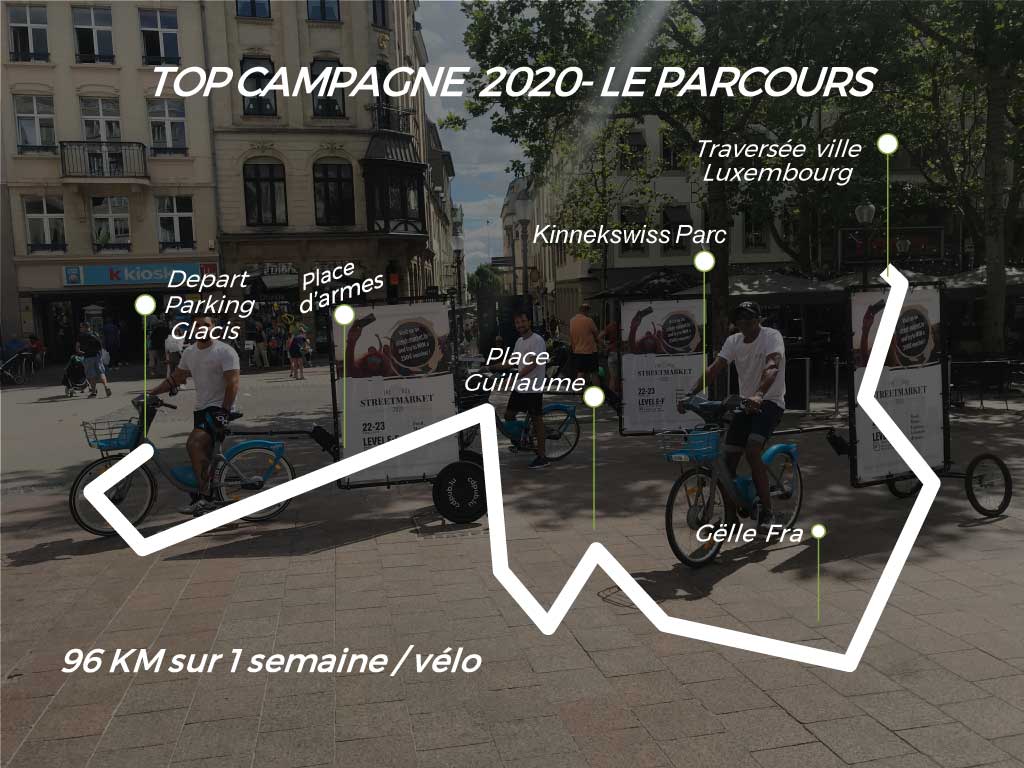 On the other hand and to maximize the "buzz" effect, the 3 pub bikes circulated together (one after the other) on strategic portions of the course. Visibility guaranteed !
In the end, the operation was a resounding success and made it possible to boost Luxexpo's visibility at this event and above all to make an impression thanks to this original medium which did not go unnoticed.
The tickets for the event were SOLD-OUT !
TO VIEW THE VIDEO OF THE OPERATION CLICK HERE :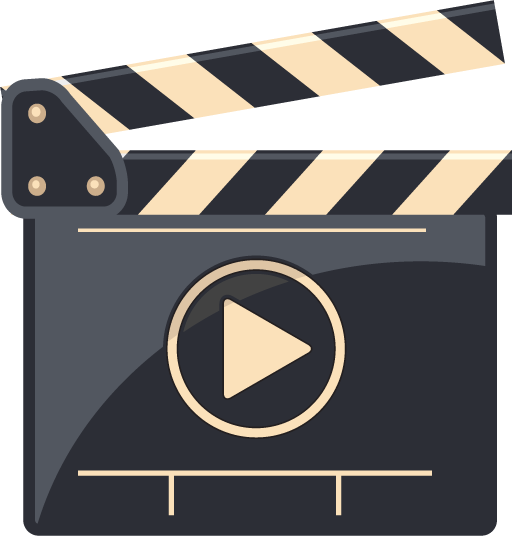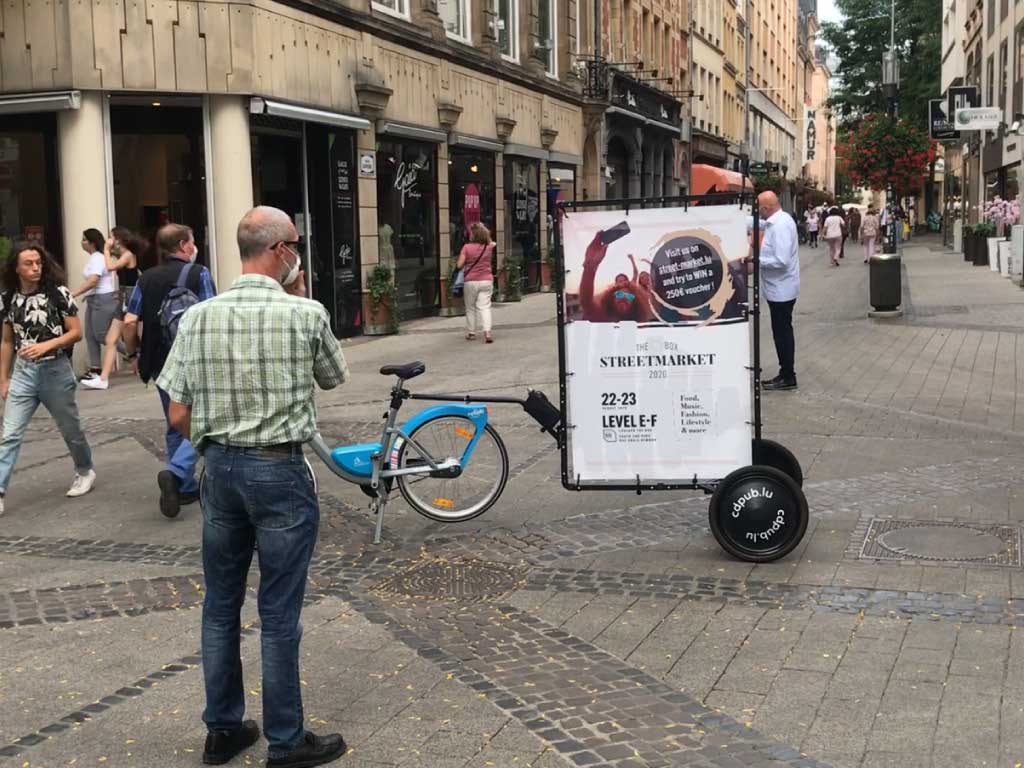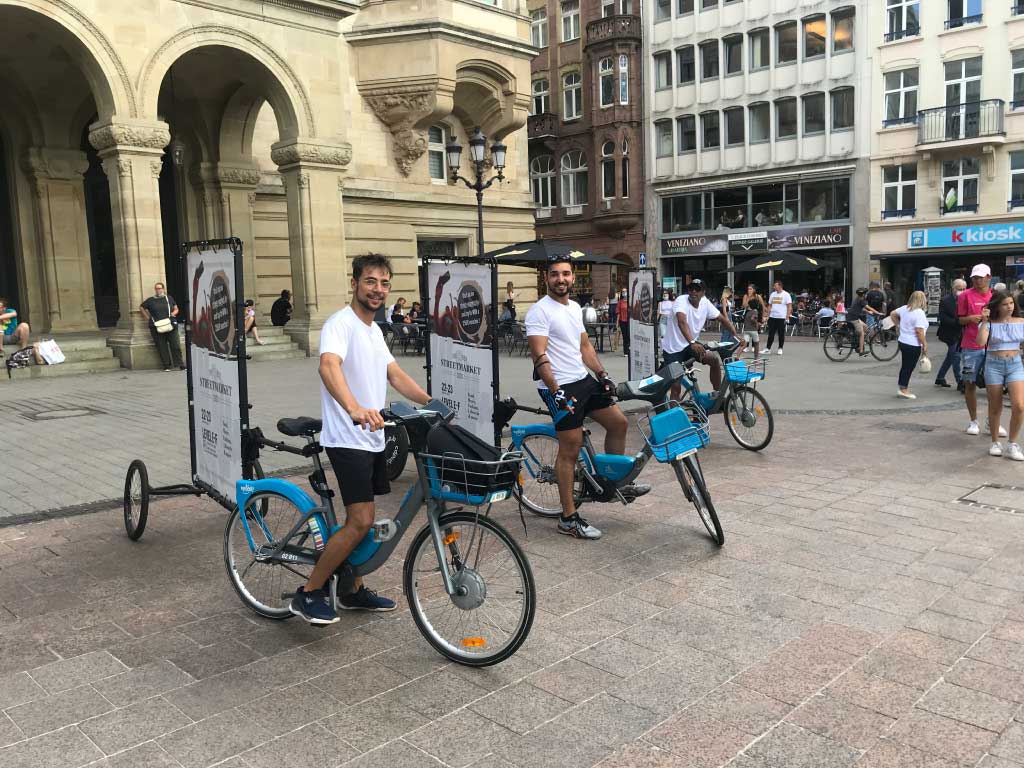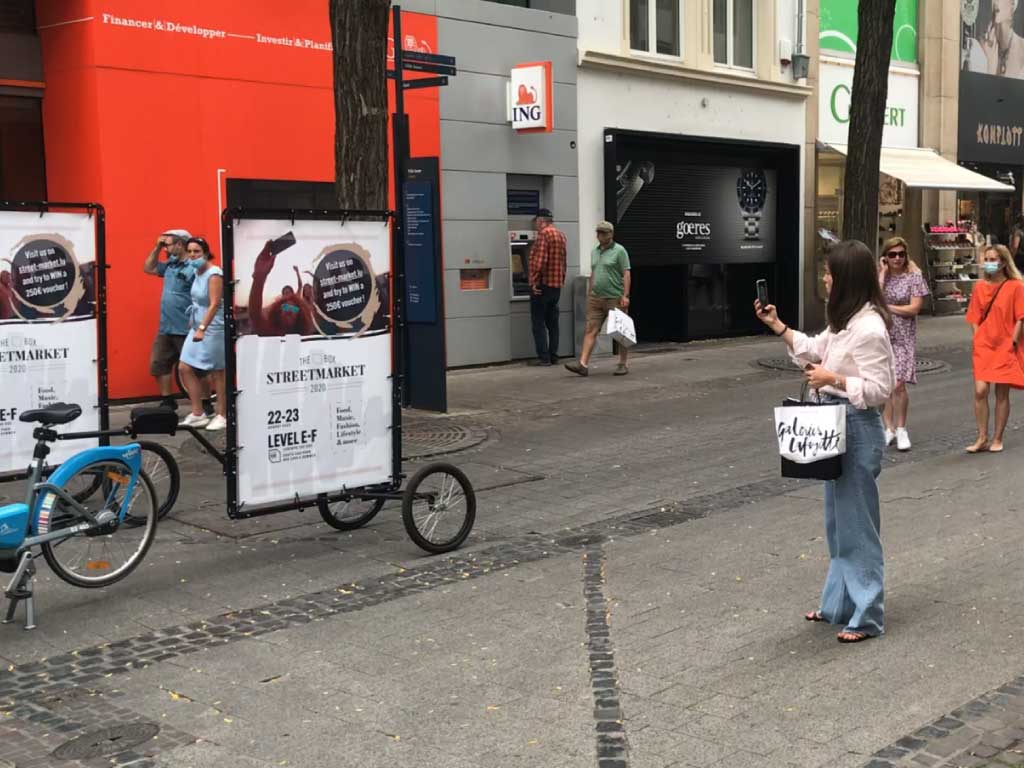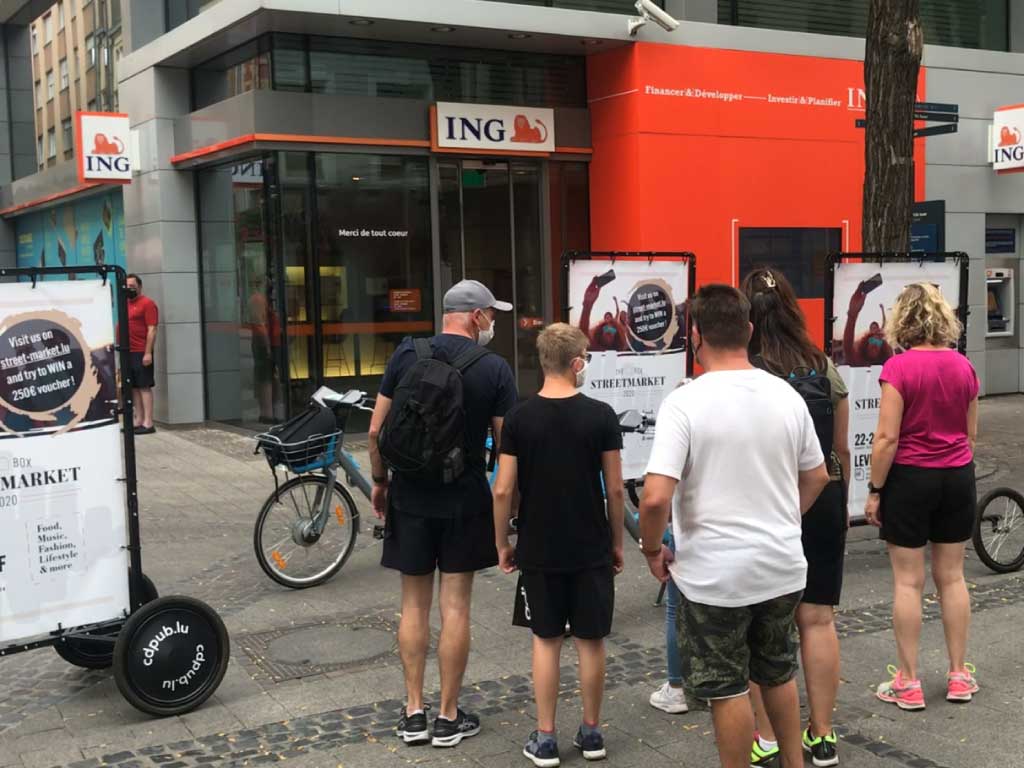 And if you need a professional to accompany you, let us know.
Benjamin
My name is Benjamin Kleinhentz, and I'm the communications manager for CD Pub. A question ? Here is my email: benjamin@cdpub.lu