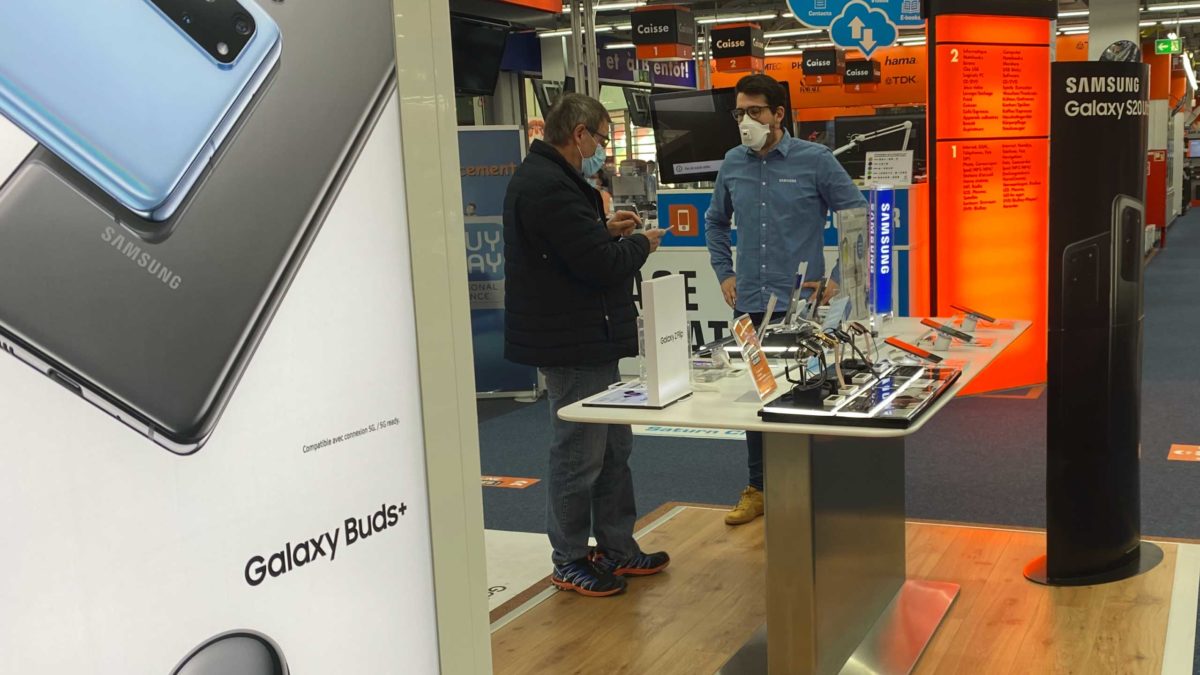 Brand activation, a powerful lever for developing consumer relationships
Brand activation or brand activation… you are going to tell me one more wacky marketing term to designate I don't know what!
The purpose of this article is therefore to clarify the subject but above all to present the advantages of brand activation in your marketing strategy, because it is a powerful lever to make an impression and arouse the membership around a brand in order to make it known and market its products . We will see in this article that "brand activation" can take several forms.
What is brand activation and how does it work ?
Activating a brand means making it known to the general public, increasing its notoriety and provoking a commitment on the part of the shopper , that is to say, triggering an act of purchase .
To trigger this act of purchase, several actions can be initiated in order to provide a real experience for the consumer , in short to appeal to his emotions: activities with demonstrations / tastings at the point of sale, sampling, promotions, competitions …
Brand activation can take several forms, for example through customer / consumer events, promotional tours, street marketing actions or even social media operations (digital activation).
Why use brand activation in your marketing strategy ?
The primary objective of brand activation is therefore to create a first contact with the consumer via an engagement, unlike traditional advertising which only promotes a product. It will then remain for the brand to retain customers.
Making your brand known, promoting your event, boosting sales, showing off new products, building consumer loyalty, developing your brand image: these are the main objectives of brand activation .
There you have it, you know a little more about brand activation and its benefits for your marketing strategy, and if it is still a bit unclear, here are some concrete examples made by CD PUB in 2020 :
⭐ Galaxy Buds + launch : Samsung improves its wireless headphones !
Samsung is launching in 2020 its fourth generation of true wireless headphones (Bluetooth 5.0) equipped with 2 loudspeakers for treble and bass, as well as 3 microphones, i.e. 2 external microphones and 1 internal microphone to capture the voice and neutralize the background noise and the promise of record autonomy, which would reach 11 hours on a single charge. To highlight these technical characteristics, the brand had to effectively relay the message in the field . CD PUB therefore called on its sales force dedicated to the brand (therefore well briefed!) Accompanied by specific theatricalization for better identification in store: dedicated island / POS / Totem / parquet, in order to create a real atmosphere of 'purchase and above allpromote the act of purchase .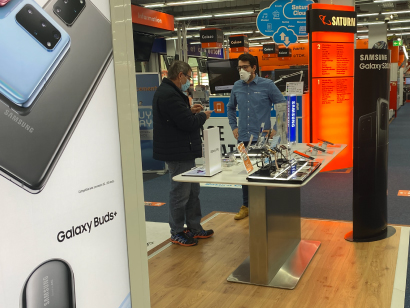 ⭐ Promotion of the "The Box Street Market" event organized by Luxexpo The Box
Here for once it is a brand activation in the context of an event , here in this case a particular context since it was the first edition of a new event completely redesigned by Luxexpo for the resumption of post-containment events in Luxembourg (such as an outdoor market). Street marketing and in particular mobile display has emerged as one of the solutions to promote this event by crisscrossing the streets of Luxembourg-City with our 3 "pub bikes" and capturing the attention of as many passers-by with the possibility of winning exclusive vouchers of € 250, € 150 or € 100.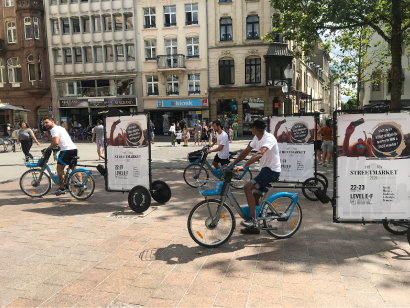 ⭐ A brand ambassador to boost sales of the Dolce Gusto Genio coffee machine
With the aim of developing sales of the latest Dolce Gusto Genio, CD PUB provided the brand with an ambassador as well as a stand bearing the image of the brand and whose role was to demonstrate supported by a promotional offer  : a caschback with the purchase of a coffee machine + 6 boxes of capsules offered. And to benefit from this promo, the customer had to scan a QR Code or send an SMS with code.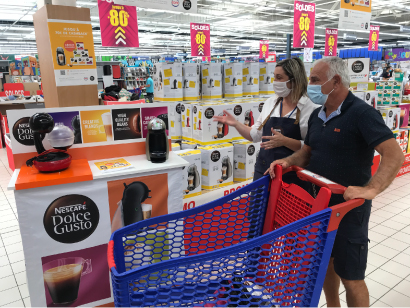 There you have it, you now know what brand activation can bring you in your marketing strategy: notoriety, brand image and above all triggering acts of purchase!
And if you need a professional to accompany you, let us know .
Benjamin
My name is Benjamin Kleinhentz, and I'm the communications manager for CD Pub. A question ? Here is my email: benjamin@cdpub.lu