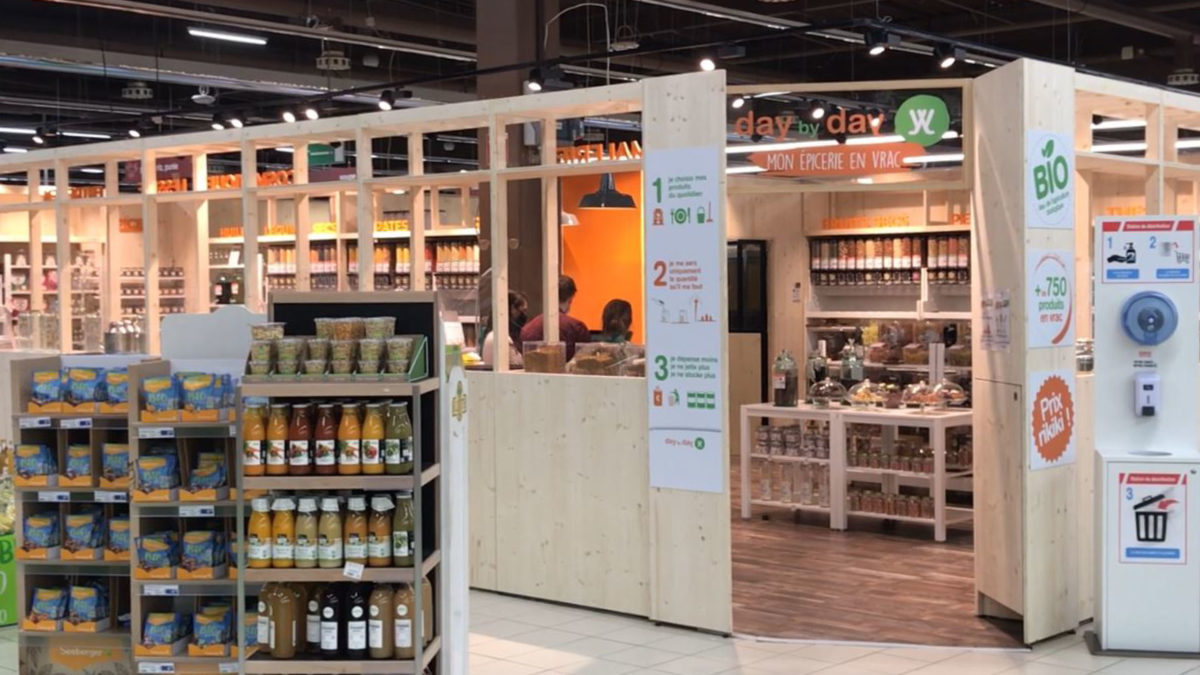 "Day by day" opens its first Shop in the Grand Duchy in Cora City Concorde. CD PUB takes part in the adventure!
Launched in May 2013, " day by day " is today the first 100% bulk grocery network for daily shopping from more than 750 products in quantity on demand and without unnecessary packaging .
Historically "day by day", these are city center shops dedicated to bulk and operated under franchise, and for 2 years the brand has developed into a Hypermarket with the installation of "Shop in Shop".
Already present in France and Belgium with 75 stores, the retailer specializing in bulk opened its first Corner in the Grand Duchy on June 7 in the cora store in Bertrange  : 90m² located inside the sales area of ​​the hypermarket at the level of the central aisle for maximum visibility.
The concept is duplicated each time with well-defined codes: sober and design with wooden frames and furniture, floor covering (parquet), white wood shelves, light spots… a real dramatization  ! Indeed, consumers expect more experience, sensations and emotions when they enter a point of sale, we speak of a " shopper experience ".
Until then, the cora brand only offered around fifty " bulk" references in silos, today with the establishment of the "day by day" Corner, it is more than 750 references of grocery products and DPH ( Drugstore – Perfumery – Hygiene) which are presented to the consumer. A concept in line with the strong values ​​of the family group of retailers and a "win-win" partnership, the cora brand benefiting from a more complete and day-by-day bulk offer benefiting from hypermarket traffic.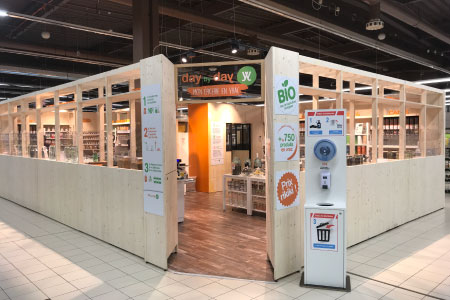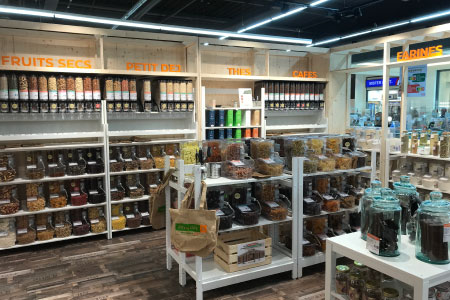 What does the concept of "bulk" consist of?
day by day is more than 750 100% bulk products ! Pasta, rice, pulses, dried fruits, cereals, confectionery, tea, coffee, cookies, wines, syrups, hygiene products or even cleaning products, Day by Day brings you quality at the right price , in quantity at the request and without unnecessary packaging .
It is a concept of self-service , the customer serves himself and presents his purchases at the counter of the corner, the seller gives him a sealed bag with all of his "bulk" products as well as a receipt. global purchase that the customer must present at the store checkout.
Transparency on product traceability  ! Each product has a QR code which allows the consumer to know precisely the traceability of the product: its origin, its ingredients, a product description and detailed information on the supplier and its history.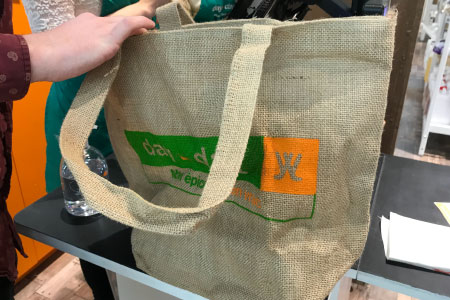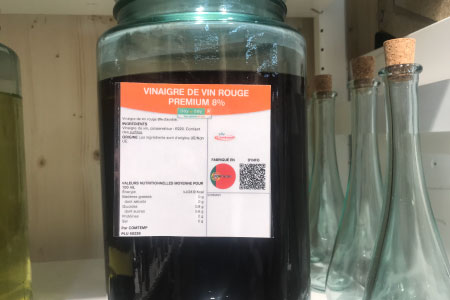 CD PUB brings its stone to the building …
For the customer experience to be optimum, it is necessary to support and advise consumers in their purchasing journey and in discovering the Shop with " expert advice ".
This is why the recruitment of in-store salespeople should not be taken lightly, because they are the best marketing for the brand.
They must be engaged without being too radical, because the brand's objective is to welcome the general public and not just those already convinced by the zero waste approach. They must also know and master perfectly the products, their origins and their modes of use… in short, retranscribing the history of the product to consumers.
It is therefore logical that the "day by day" brand turned to a local service provider such as CD PUB, for the recruitment of its sales consultants.
Indeed, a specialist in Field Marketing for 20 years in Luxembourg, CD PUB masters the codes and practices of large-scale distribution and provides its customers with multilingual sales representatives trained in sales techniques; true ambassadors of your products or services .
It will therefore be Audrey and Mélodie who will promote the products of the day by day brand for an indefinite period. Motivated and involved, they took part in setting up and setting up the Corner to become more familiar with the concept, the equipment used and the products… We wish them fulfillment and success in this new adventure!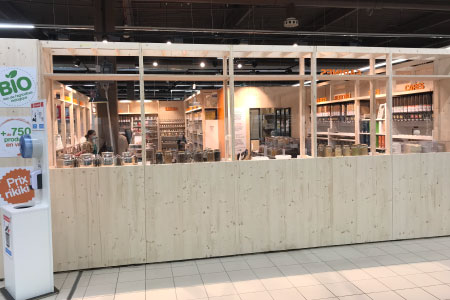 Bulk, a new mode of consumption?
Intensive agriculture, chemicals, waste… Customers want to get out of this excessive consumerism and move towards products presented without packaging and if possible local. With the opening of this 1st day-by-day store in Luxembourg and at the very heart of the Cora hypermarket, the two brands want to shake up traditional consumption habits and offer a new alternative to meet growing demand from customers wishing to consume more responsibly. .
⭐ Less food waste ▶ More than 750 products in quantity on demand
⭐ Less packaging ▶ 100% of products without unnecessary packaging
⭐ More economical ▶ A controlled budget, thanks to controlled quantities and products at the right price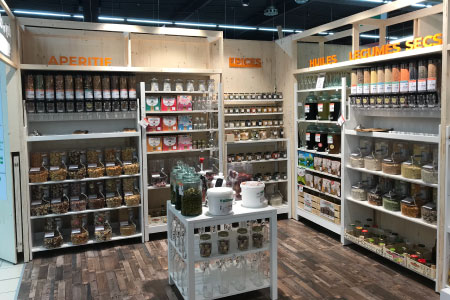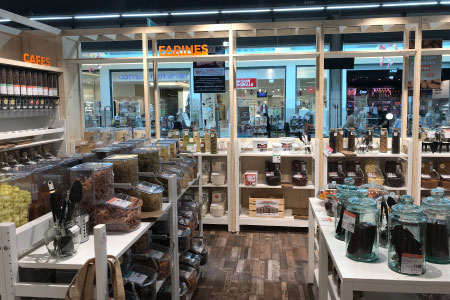 Outsourcing your sales force on an ad hoc or regular basis has many advantages: time savings, comfort and flexibility, quality of service, brand image, etc.
And if you need a professional to accompany you, let us know .
Benjamin
My name is Benjamin Kleinhentz, and I'm the communications manager for CD Pub. A question ? Here is my email: benjamin@cdpub.lu